Resources (Links)
Websites we recommend to visit:
Pet Moving Service - Dog Transport Company
Transportating dogs across country.
Animal Transportation - Pet Delivery Service
Coast to coast pet shipping.

Doberfrau is a modern artistic view of the world of dogs focused on the Doberman breed. The Doberfrau lifestyle is a celebration of Dobermans, Munich and Art through the photographer's lens. We offer pop art Doberman gifts.
Julie's Pet Care
Offering quality customized pet care in the comfort of your home. Services for large and small animals include feeding, medications and special needs care, dog walking, play time/potty breaks, pet taxi, overnight care, mid-day/am/pm visits, and home care, including mail pick-up/garbage, etc. Licensed, bonded and insured—Santa Rosa, CA area.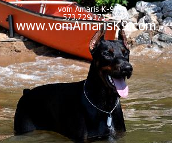 www.vomAmarisK9.com - AKC Doberman Pinscher Trained Executive and Family Security Dogs

http://roxiedpetboutique.co.uk/ - Roxie Delux. Pet SPA. Cat and Dog Grooming Salon in Birmingham UK.
Val Heart, The Real Dr. Doolittle and Leading Animal Communication Expert, Bestselling CoAuthor of The Live Sassy Formula, Founder of the H.E.A.R.T. System for solving problems with animals. Claim your Free Quickstart to Animal Talk home study course - Go to www.valheart.com now!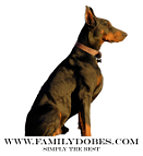 http://www.familydobes.com - Doberman Puppies and Adults for sale Click Here

---